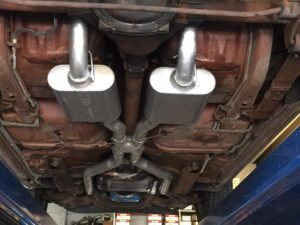 Fuel efficiency is a key component to keeping any vehicle long term. When buying a car, the cost of fuel per year and gas mileage are things to consider. Many who have owned cars over a long period, never consider improving fuel efficiency with a new exhaust system. Just like those shopping for new or newer used vehicles, and more fuel-efficient driving options, there are fuel efficiency options for long-term cars owners as well.
There are many benefits to improving your car's exhaust. The technicians at Mufflers 4 Less are the leading professionals in car exhaust systems in Hollywood, Florida. In a more environmentally conscious age, they do their part by improving your car's fuel efficiency system.
Factory exhaust systems, those that come standard in mass-produced vehicles, carry restrictive exhausts. They are the exhaust systems that are quieter and are lower cost. Achieving a quieter exhaust system, however, comes at a price. Thus, when a factory exhaust is replaced with a less restricted exhaust, it improves efficiency. These are aftermarket exhausts or "cat-back exhaust system".
The improvement of efficiency or boost in power was always in the exhaust system. A key thing to understand is nothing was added to generate this power. The power generated by the aftermarket muffler, though accomplished via installing a better exhaust was always present.
What does fuel efficiency mean?
The best way to explain fuel efficiency is by giving an example. The math is rather straightforward. A typical exhaust improves a vehicle's power output by 2 to 5%. Let us say your vehicle get roughly 16 miles per gallon and by adding a new exhaust system sees a gain in fuel economy of approximately 3%. 3% of 16 miles per gallon equals .48 miles per gallon. If you drive the national average of 15,000 miles per year and the price of gas sits at an even $3, you save about $85 for every 15,000 miles you drive.
To state it plainly, a 3% increase of power translates to 3% less fuel used to achieve the same power output.
Performance Exhaust Systems
A performance exhaust frees up power from the engine. This creates a more efficient path for the release of gases. The downside, as in most car repair cases, is cost.
Muffler 4 Less
Mufflers 4 Less, located at 5950 Thomas Street, Hollywood, FL, 33021, offers free computer diagnostics, free exhaust inspection, and a free estimate. Their mission is providing customers with a high-quality service. There is no better option for car exhaust systems in Hollywood, Florida.
The benefits of visiting the muffler professionals are twofold. Experience an increase in your car's performance fuel efficiency and save money over your ownership/lifetime of the vehicle.
Their long list of services and a 99.9% rate of work completed on the same day allows the customer to experience satisfaction through their experience.
From performance exhaust systems, mufflers, catalytic converter, manifold catalytic converter, resonators, a wide variety of chrome and burned tips, hangers and more, Mufflers 4 Less possesses the knowledge and experience to get the most out of your exhaust performance.