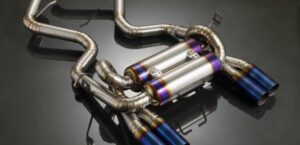 A bit more horsepower. We can't tell you how many times we've heard that very thing at 954Mufflers . Customers have been coming to us for over 25 years for custom exhaust systems. Unlike other garages, our technicians think outside the box and solve problems.
When a car enthusiast buys a car, they see its potential. The rumble of an engine is a language they understand. However, an interesting fact is drivers rarely, if ever, use the full power potential of their engine. Hence the need for a place like Mufflers4Less.
A custom exhaust system can be the solution to unleashing the animal in your engine. At Mufflers4Less, we take the time to put your car on the lift, mock it up, tell you how we're going to do the job and give you a quote.
You don't go over 30 years in this business and become the most reputed, highly-regarded muffler supplier by luck. When it comes to exhaust systems in Hollywood, Florida, we are where the market begins and ends. Quality work at a great price is what we offer to our customers who come from all over South Florida.
Car makers tend to use inexpensive parts to build exhaust systems, because of this there is plenty of room for increased torque and horsepower. An aftermarket custom exhaust system from Mufflers4Less will not only look great and sound terrific, it will improve your car's performance. We install systems that create a faster release path for the exhaust gases in your car. It allows your engine to push combustion gasses and air out the cylinder quicker.
There are numerous reasons to upgrade to a custom exhaust system. The most popular reason is that it adds an aggressive note to the exhaust.
At Mufflers4Less, we aim to keep you informed about every detail along the way. For example, high-end aftermarket custom exhausts are made of either stainless steel or aluminized steel. Stainless steel systems last much longer than aluminized steel, but both are upgrades over your factory exhaust systems.
It is important to consider how and what you use your car for. Understanding the performance demands of your vehicle can be the answer to what type of aftermarket custom exhaust system you require. Most go for bigger piping, but bigger piping can adversely affect your vehicle's performance.
Come to Mufflers4Less for exhaust systems and get efficient work by the most qualified technicians in the area. We are reputed throughout South Florida for our high-quality workmanship, professionalism, timeliness, and cost.
Truck or car, repairs or replacement, our technically proficient team is here to inform and serve you. We offer an array of services including free estimates: Performance Exhaust System, Mufflers, Catalytic Converters, Custom Exhaust Tips, Custom Systems, Custom Pipe Bending, Custom Y-pipe, Custom Welding, Header, Manifold, Manifold Catalytic Converters, Flex Pipe, Resonators, Tailpipes, Computer Diagnostic for Converters, Wide variety of Chrome & Burned tips and Hangers.
For the best exhaust systems in Hollywood, Florida, call Mufflers4Less at (954) 983-1333. Visit https://954mufflers.com/ or stop by our garage on 5950 Thomas Street, Hollywood, FL 33021. We'll be glad to see you!